According to the Intergovernmental Panel on Climate Change (IPCC), a move to net-zero carbon emissions would limit the world's temperature increase to 1.5 degrees, the tipping point after which many ecosystems become unsustainable. According to the IPCC, rapid change is required to reach this target.
The Paris Agreement, adopted in December 2015, is a legally binding global agreement on cutting greenhouse gas emissions that are causing global warming. The agreement was adopted by 196 countries and went into effect in November 2016 with the intent to review progress after five years. COP26 was the follow-up meeting from The Paris Climate Conference (COP21). One of its main aims was to push countries to impose more ambitious 2030 goals ahead of the 2050 net-zero target. Currently, more than 130 countries have committed to reaching net-zero carbon emissions by the 2050 deadline.
The role of infrastructure
Infrastructure plays a significant role in the move to decarbonize or reach net-zero carbon emissions, with many of the targeted initiatives falling under its remit. Essentially, the commitment to net-zero emissions requires countries to accelerate the phasing out of fossil fuels, increase investment in renewable energy and hasten the switch from gas and diesel vehicles to electric vehicles, as well as commit to other initiatives around sustainable farming and deforestation.
Decarbonization has a twofold impact on the infrastructure sector. First, as owners and operators of infrastructure assets, particularly in the energy and transportation sectors, general partners (GPs) can play a key role in helping to reduce global emissions. Second, the move to net-zero creates significant investment opportunities across the risk-return spectrum, whether it incorporates increased investment in renewable energy such as wind or solar (more core/core plus type investments), new technological advancements in energy transition (value add) and electric mobility (core plus/value add) or energy storage (core plus/value add). According to the International Energy Agency (IEA) an estimated $100 trillion plus will be required over the next three decades to reach net-zero carbon emissions by 2050.
Adoption of environmental and sustainability initiatives
Many infrastructure GPs are embracing the role that they can play in promoting decarbonization and operating their businesses and assets more sustainably. One could argue that it is in their best interest to do so, given that the increased opportunity set, the push from investors and requirements from regulators and policymakers all make it clear that greater commitment from infrastructure owners and operators to reduce carbon emissions is a welcome development.
In the last couple of years, we have seen a significant step-up by infrastructure managers in either hiring or dedicating senior level personnel to focus on ESG. We have seen greater adoption of environmental and sustainability policies and practices and lastly, we have seen more detailed reporting on the impact of these policies and initiatives.
Three such formal investor initiatives that are gaining industry traction are:
UN Principles of Responsible Investments (PRI) — Signatories to the UN PRI demonstrate a commitment to responsible and sustainable investing.
UN Sustainable Development Goals (SDG) — Infrastructure can play a key role in meeting the UN's SDGs. In particular, SDG6 (clean water and sanitation), SDG7 (affordable and clean energy), SDG9 (building resilient infrastructure, promoting inclusive and sustainable industrializations and fostering innovation) and SDG13 (climate action).
GRESB — This organization provides ESG data. Its Infrastructure Fund Assessment helps benchmark infrastructure funds.
COP26 will likely result in increased focus on the role infrastructure managers can play in reducing carbon emissions. As governments, businesses and other organizations step up their efforts to reach net zero in the wake of COP26, it is likely that investors, particularly public plans, will place more importance on ESG when making investment decisions. This is clearly evident in Europe.
Additionally, a GP's experience and track record in and commitment to sustainability may also play an increasing role in the awarding of public and other contracts. As such, those managers for which this is already a core mission or focus area will be at an advantage while those slow to take action could quite easily be left behind.
Opportunities in decarbonization
The move towards net-zero carbon emissions has broadened the opportunity set for infrastructure investors. Key areas of opportunity include the production of different forms of renewable and low-carbon energy as well as the infrastructure and technologies required to support their penetration, adoption and efficiency.
While estimates vary, the global investment required to reach net-zero CO2 emissions by 2050 ranges between a massive $4.5 trillion and $5.8 trillion annually. Much of that spending will be focused on renewables, electrification, energy efficiency and supporting infrastructure.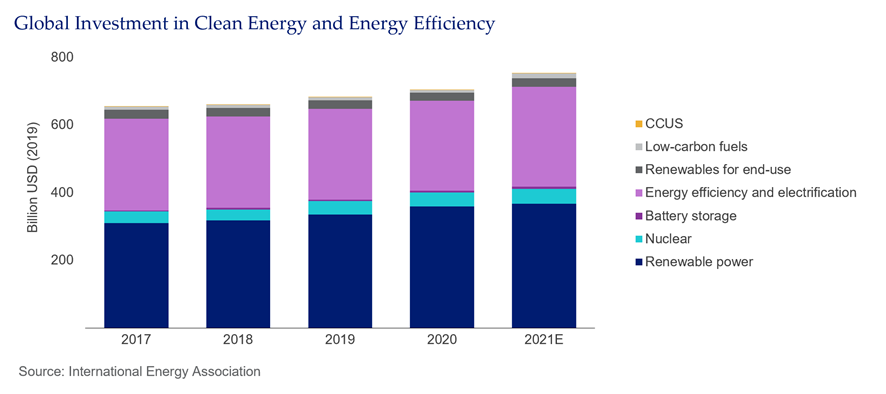 The energy and transportation sectors are two of the largest contributors to CO2 emissions. As such, their decarbonization will have the most significant impact on achieving the net-zero target by 2050. As of year-end 2018 (the most recent data available), the energy sector was responsible for 76 percent of all global carbon emissions with transportation accounting for approximately one third of that, according to the World Resources Institute.