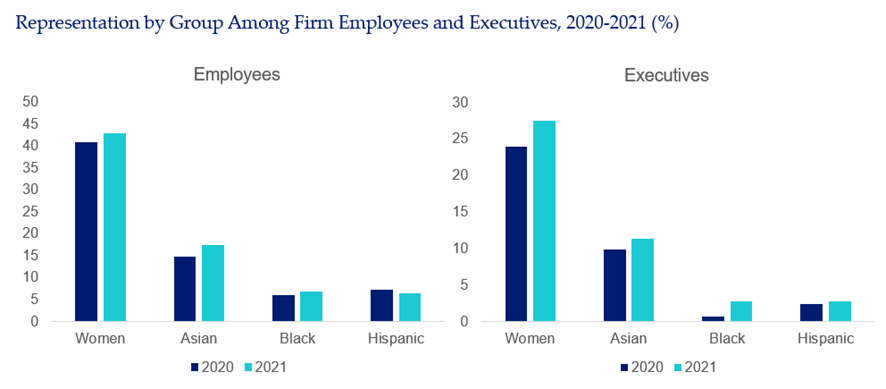 Firms showed less action on pay parity assessments, which investigate potential bias in compensation based on gender and/or race. Many of the firms operate in the UK where there is a requirement to provide pay parity reports for companies with more than 250 employees. Despite the UK requirement, we found reporting firms aren't necessarily conducting similar exercises across the global and/or U.S. workforce. Our survey asked if firms assessed gender pay equity and we noted a slight decline in positive responses, from 39.5 percent to 37.5 percent. Similar to last year, among those that assessed pay parity, few were willing to report the income gap. The 10 firms that chose to provide it had a range of responses from zero to 35 percent.
On environmental issues, investment managers have become resources for clients seeking to reduce the carbon emissions count of their portfolios. More than one-third of managers track carbon emissions for clients. The survey focused on internal practices at the management firms. There, too, we saw a notable uptake on carbon initiatives. About half of the managers are already in the process of tracking their own carbon emissions. One-fourth of firms have made net-zero commitments. The trend towards more climate awareness is also reflected in firms providing carbon offsets, which increased 37 percent since 2020. There is plenty of room for improvement on climate-aware services, which may become a differentiator for clients moving in that direction.
We also noted changes in firms' human capital management practices. Given the ongoing COVID-19 pandemic, a not-so-surprising finding is that staff are either working remotely at 74 percent of firms or working in the office on a voluntary basis at the other 26 percent of firms. Future plans were more nuanced, as illustrated in the pie chart.
Networking groups for underrepresented segments of the population and parental-leave support are both on the rise. More firms are also providing tuition and certification reimbursement, mentorship programs and internships. Some firms are offering ancillary benefits, such as professional coaching, internal mobility programs and loan-debt repayment assistance.
The survey found that, by and large, firms had more independent directors on their boards in 2021 than in 2020. Finally, a larger percentage of respondents (73.2 percent compared to 69.1 percent in 2020) reported that they provide employees with an opportunity to buy ownership stakes in the firm.
Overall, many of the 2021 survey results are consistent with what we found last year. We noted gains in diversity and inclusion, but progress on equity was less clear. Firms are reporting more activity on carbon counting as the world grapples with the challenge of slowing the tide of climate change. Responses indicated that the remote work environment prompted by the pandemic is unlikely to reverse course for most firms.