3. Should We Really Care?
There is little doubt that on a total amount and a per capita basis the U.S. has more debt than ever before in our modern history. At the same time there are reasons to believe that there is no imminent crisis that is likely to arise from these debt levels — at least not yet. It may be helpful to consider past circumstances where mountains of debt created a debilitating economic meltdown. By doing so we can assess whether some of the characteristics leading up to those problems are on the near-term horizon for the U.S. and evaluate the solutions that could forestall or minimize the impacts.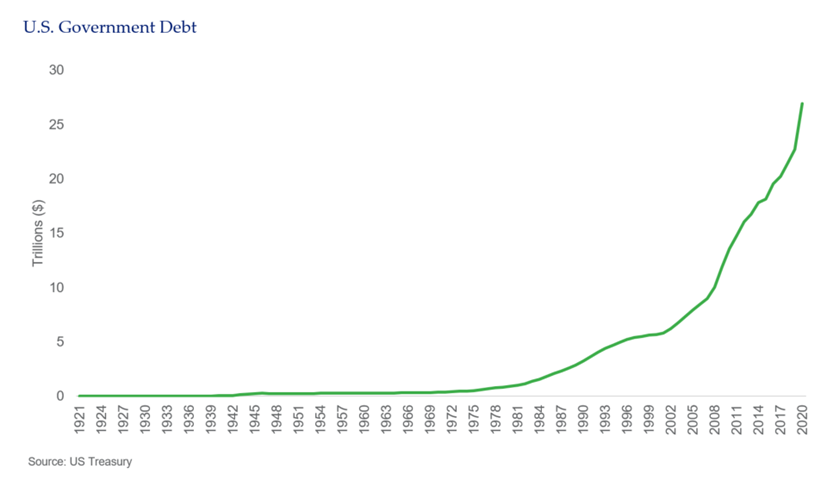 The World Bank identified 26 cases where a developed economy's debt burden was greater than 100 percent of GDP since 1875. Given the often unique circumstances of those cases, we will briefly examine two that seem to have substantial significance and fairly universal application: WWII, and the post-Global Financial Crisis period. We can also look to the Great Depression in the early 30s for insight, but note that even at its very worst debt to GDP (DTG) only reached 42 percent.
With protectionism reducing trade, a debilitating stock market crash, and a dust bowl ravaging the interior of the country, then-President Hoover took the amazing step of raising taxes. At this point debt to GDP had more than doubled from 14 percent to 34 percent, but much of this increase was due to the decline in economic activity. Enter FDR, whose New Deal in the early 30s hiked the ratio to 40 percent where it largely remained until fairly deep into WWII. By the time the war ended, DTG had reached 114 percent. High levels of debt continued as WWII was quickly followed by recessions in 1948 and 49, the outbreak of the Korean War, and the military buildup related to the Cold War. Not surprisingly, the reasons for high levels of debt were simply due to the decision to join the Allied powers in engaging the Axis around the world. Wars, and their aftermaths, are after all expensive.
Interestingly, if we look at the post Korean War periods, DTG tended to fall as time passed, with increases occurring due to specific events such as recessions. During the years from 1951 to 1971, DGP actually went from 74 percent down to 34 percent, but that was again largely due to the tremendous growth of the U.S. economic engine. Actual debt levels over those 20 years increased by an average of 2.3 percent per year, while GDP increased by an amazing 6.3 percent per year. The moral to this story is that it is pretty easy to have your debt burden decline if your level of income is growing at almost three times your debt.
A combination of factors led to a near doubling of DTG over the next two decades. Military spending to win the Cold War with the then Soviet Union and the first Iraq war along with Reagan's two tax cuts were mainly to blame, but still at a level of 60 percent the ratio wasn't alarming. The U.S. debt habit was, however, taking a significant turn for the worse as debt for this period increased by over ninefold, while GDP, still growing rapidly, increased by only five times its 1971 level. During the period from 1991 through 2007 DTG remained fairly constant in the low 60 percent range and good economic times allowed something of a reversal of the debt binge, with actual debt increasing by 2.5X and GDP increasing by 1.8X.
And then came the GFC. And then COVID-19. U.S. government debt skyrocketed from 62 percent of GDP in 2008 to 136 percent by 2Q of 2020, a 3X increase, while GDP itself only increased by 34 percent during the entire 11-plus year span. This dramatic shift in the role of government in the economy was brought about by three principal events:
The need to rescue the financial system, which appeared to be on the brink of collapse;
The general economic concept that reducing taxes and increasing government spending would pay dividends via higher economic growth and ultimately higher tax revenues;
The need to provide a backstop for the physical and economic disaster of a global pandemic.
There are a few key observations from this history and lessons for our future. First, when recessions occur it is natural for government to step up borrowing in order to support future growth and minimize the pain to citizens and businesses. Second, when those recessions end, government has tended to keep its spending pattern at the same levels, or even raising them somewhat. That is poor financial discipline. And third, when you are fighting a world war you have to do what it takes to maintain your economy while winning. The bad financial discipline during favorable economic environments makes dealing with the first and third events much more difficult.
What's wrong with a lot of debt?
As noted, one issue is the ability to apply government fiscal intervention to shorten the duration or lessen the severity of economic downturns. As debt grows it is more difficult to respond to problems. There is the crowding out of private investing as the supply of debt increases and savings are redirected towards satisfying that need. Interest rates then are likely to rise, which puts pressure on the U.S. dollar, which decreases foreign demand for that debt, which causes rates to rise faster with higher debt service costs resulting in crowding out of government services that can be more supportive of economic growth. This downward spiral then becomes worse each time there is any decline in economic activity and reaches its nadir when lenders are no longer confident in the borrower's ability to repay. Ultimately the level of debt will reduce economic growth (the World Bank pegs the breaking point at nearly 80 percent DTG) and could ultimately threaten the supremacy of the U.S. Dollar as the global reserve currency. This cycle of causes and effects is widely agreed upon in more traditional, "Keynesian" (a reference to renowned economist John Maynard Keynes) economic circles. However, as we will explore further, an alternative approach to debt levels and government spending has caught the attention of economists and media outlets across the globe.
What are the steps to lower the debt burden?
One obvious choice is to spend less. Difficult in a pandemic for sure and the side effect of potentially reducing economic growth, so perhaps a better general prescription would be to a. exercise improved financial discipline in the future by reducing spending in times of economic prosperity and b. spend smarter by focusing on spending in areas that are supportive of long term growth and productivity such as education and infrastructure. A second obvious choice is to increase revenues by raising taxes in some fashion. Again, the fear is that if taxes are raised too much or in the wrong way this will also result in a decline in economic activity as money is removed from the system. Tax policy has to be applied with a carving knife, not an axe, but generally this results in an even more complicated system often dominated by special interests. The most politically attractive way to reduce debt is to grow the economy faster hence the relative burden declines while tax revenues rise. The problem here is, how? Finally, there is simply printing money so that the debt can be paid off with some of the higher quantity of dollars in circulation. That is basically what is happening now as the Fed is buying government debt and inflating its balance sheet. The fear is that this can eventually result in bouts of inflation and increase interest rates, thus creating a different type of cycle with equal, or worse, long term consequences.
There is one other solution however — don't worry about the debt at all!