Current concerns
Alarm bells are ringing today with four catalysts triggering both realized inflation and uncertainty regarding future inflation. In response, the Fed and other developed market central banks are implementing much more hawkish policies, which is in direct contrast to the messaging coming into the year.
This attempt to address inflation is a front-loaded exercise with policy rates and anticipated rate hikes now moving higher at a rapid pace. Expectations are for the U.S. to approach a 3.5 percent fed funds rate by the end of the year. As this benchmark rate is the starting point of the interest-rate-term structure, the Fed has a great deal of influence in the overall short-maturity segment of the curve. Although the impact further out the curve has also been significant, that is not where monetary policy tools, in isolation, have any direct control.
However, when the central bank buys longer duration Treasuries and mortgage-backed securities through quantitative easing (QE), its influence further out the curve can be significant. With the intention today being to wind down QE and begin embarking on quantitative tightening (QT) in an effort to shrink a $9 trillion balance sheet, the yield adjustment to the longer-dated portion of the curve is mostly the result of capital markets repricing term structure premiums, the diminishing central bank Treasury purchase impact on price and long-term inflation premiums.
The chart below shows the yield impact to developed market 10-year government bonds resulting from these adjustments to various premiums.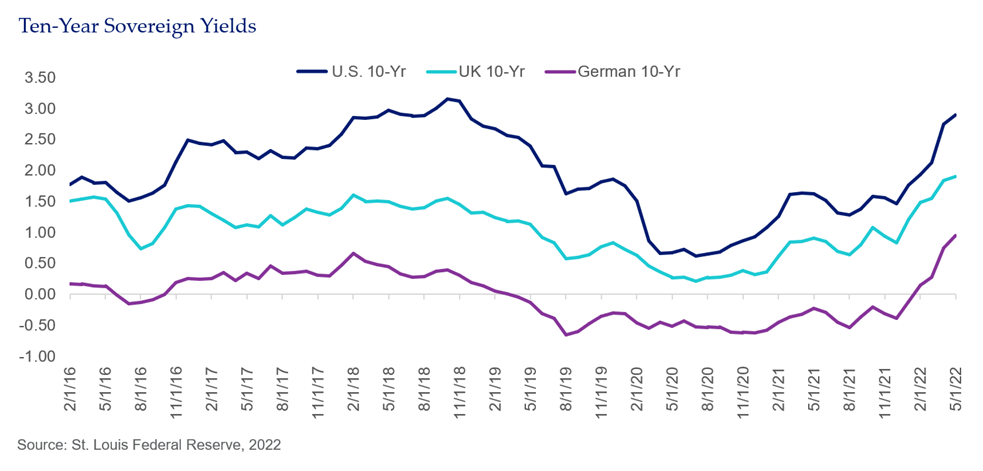 The resulting performance in both short- and long-duration investment-grade fixed income has been unsettling. Year-to-date performance for the Bloomberg U.S. Aggregate Index was - 11.1 percent through June 22. This magnitude of negative performance is high by historic measures. One would have to go all the way back to the early 1980s to see a similar bond repricing environment. However, the Bloomberg U.S. Aggregate Index structure was entirely different then, when the public investment-grade fixed income markets of today were just developing.